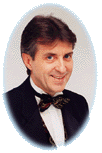 John was born and brought up in Leicestershire UK.

He started music lessons at the age of eight and Joined a dance band on leaving school playing drums. He graduated to frontline vocals and gained an interest in big bands. Loves the music of Frank Sinatra, Nat King Cole, Mel Tormé, Matt Monro and other great crooners.

Has performed with the BBC Radio Leicester Big Band 1988-92, the Syd Lawrence Orchestra in 1995 and is currently working with the George Thorby Big Band, and the Johnny Harris Big Band. John has been guest vocalist with the Don Lusher Big Band and the John Patrick Big Band and the Kings of Swing Show.

Airplay on BBC Radio 2, BBC Radio Leicester and Digital station, PrimeTime

In addition to Big Bands, John performs with 3-6 piece or piano only. He has also performed on a number of occasions in the United States, Australia and mainland Europe.
Latest CD
Debut album "Just in Time" released October 2001 on the Fiddle and 'Bone label.
See the review at:
www.musicweb.uk.net/jazz/2001/Oct01/Brennan.htm
Big band album with all star session big band including Martin Williams, Andy Wood, Paul Eshelby, Dave Green and Mark Nightingale.
"John impressed me with both his vocal expertise and his personality. I would, without hesitation, recommend him in the capacity of vocalist or compere"
Bryan Pendleton, The Syd Lawrence Orchestra
"I enjoyed you so much, keep on singing"
The late Anne Shelton
"I wish there had been more time for some studio work"
Evan Welch, The Sounds of Swing Big Band, Boston, Massachusetts
"It was such a pleasure to have John sing with the Sounds of Swing Big Band. I wonder if he'd consider moving to Boston USA so we can enjoy the experience more often"
Norman Daoust, Eastwood Swing Orchestra, Cambridge, Massachusetts
Appearances Include:
Featured vocalist with the Syd Lawrence Orchestra in 1995 - Shows with Max Bygraves, The Beverley Sisters, Jim Bowen, Kenny Ball, The Pasadena Roof Orchestra, Craig Douglas.
Successful tour of New England in 1997.
Currently singing with the Midlands Big Band
Singing the songs of Frank Sinatra, Bobby Darin, Joe Williams and many more. John is available for Clubs, Hotels, Cruises, Holiday Centres, Radio & Television or as a guest vocalist with your band, big or small. Also available with his own M.D. and backing musicians from trio to big band. PA provided.